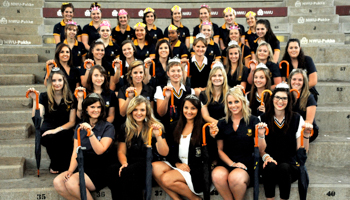 Corridor 1 - Viooltjies
Viooltjies is the first corridor on the South side. Here you are greeted kindly by the 'pink' corridor where the girls wear their crowns to gatherings with pride. The corridor is proud of their mirror (mascot) called Milady. Here the residents of Viooltjies live by thier slogan with pride: 'Weerspieël jou vrolikheid.'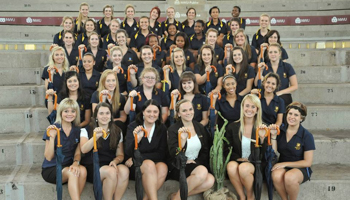 Corridor 2 - Poison Ivy 
Poison Ivy are the 'Texas cowgirls' of Minjonet. This corridor does not have only one, but two cactus mascots. The big one is called: 'Haar Majestueuse Mak Rakkesteuese Bella Noia Perfecta Kaktusplant' and the smaller one is called: 'Edna.' Here one of the residents wear the famous 'cowboy boots' to gatherings.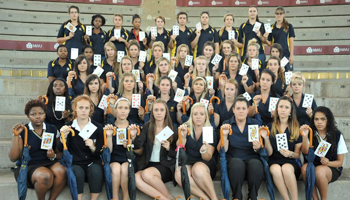 Corridor 3 - Leeubekkie
Leeubekkie is the witty and 'LOUD' corridor of Minjonet. Their slogan gives expression to their nature namely: 'Play Hard or Go Home.' Their theme is 'Royal Casino' the pack of cards being very valuable to them. The residents' mascot is Lady Vadavushka - a doll who welcomes the girls on the corridor. The residents wear their corridor attire, which is a beautiful black and red sweater, with pride. When it is a bit colder they wear their black and red jackets.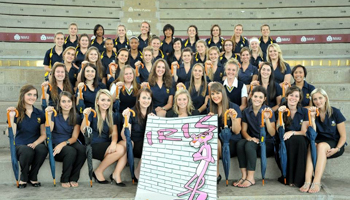 Corridor 4 - Iris
Iris is the top corridor on the South side with the most beautiful view of the campus and the streets of Potchefstroom. The corridor's theme is Paris and everyone wears something purple during gatherings. Iris's mascot is the Pink Panther. Here the girls sing their corridor song, Iris's Call (also known as Ireland's Call) with pride whilst making a heart with their hands. The girls proudly live by their slogan: 'Waar ons Harte lê.'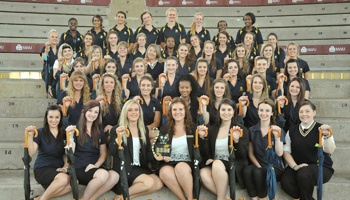 Corridor 5 - Kruidjie-roer-my-nie
Kruidjie-roer-my-nie is the only corridor on the Northen side of Minjonet. This is also the biggest corridor in the residence. The residents proudly wear their black corridor shirts and moustaches to gatherings. Here the residents are very proud of their fellow inmate, namely Olifante-krokke-noster-krok-pap-pof-muis-grillik-swart-kat, who is the corridor's mascot. During gatherings the girls sing the famous song 'Kruidjie-roer-my-nie'  with delight and are not shy of their slogan 'die kat in die donker knyp.'