Notice: 2021 merit bursaries for senior students 
Dear student
In September 2020, the University Management Committee approved a preliminary revision of the merit bursaries that may be paid to senior students in 2021. The preliminary changes were included in the Payable Fees booklet that has been published on the NWU website. Covid-19 has a serious impact on the financial stability of the university, and as such various measures had to be put in place to ensure that we remain within the budget allocated for merit bursaries, as well as within the broader university budget.
We also acknowledge the negative financial impact of Covid-19 on all our stakeholders and continuously explore a range of options that have the potential to lead to long-term and sustainable solutions. It must be emphasised that the revision is still in progress and final communication will follow once all the 2020 academic results are captured and the financial impact of the merit bursaries for the university is clear.
Regards
Prof. Robert Balfour
DVC: Teaching-Learning
How do I apply?
Please make sure that you use Mozilla FireFox or Google Chrome as web browser.
Undergraduate bursaries and loans
Complete and submit the application forms for the relevant bursaries and loans available for UNDERGRADUATE degrees.
Postgraduate bursaries and loans
Complete and submit the application forms for the relevant bursaries and loans available for POSTGRADUATE degrees.
External bursaries
The Mining Qualifications Authority (MQA): Bursary Applications for Unemployed Learners
The Mining Qualifications Authority (MQA) is a Sector Education and Training Authority (SETA) for the mining and minerals sector in terms of the Skills Development Act No. 97 of 1998.
The MQA would like to invite learners who are presently in Grade 12 or already studying at a public university, university of technology or a TVET college to apply for an MQA bursary for the 2022 academic year. Read more
Compensation Fund | Bursary 2022 Academic Year
Are you a(n) unemployed person who suffered an occupational injury or disease, and as a result, acquired a permanent disablement? Do you wish to improve your skills to return to work or be self-employed?
Are you a Dependant of a COID pensioner/Dependant of a COID client with a permanent disablement wanting to further your studies at a Public Post School Education and Training (PSET) Institution?
The Compensation Fund is inviting previously employed persons who suffered occupational injuries or diseases, and as a result, acquired a permanent disablement, as well as dependants of COID pensioners/dependants of COID clients with a permanent disablement, to apply to the Social Welfare and Vocational Rehabilitation Bursary Scheme for 2022 academic year.
The applicants must have been accepted at a recognised Technical and Vocational Education and Training (TVET) College, Community Education and Training (CET) College or Higher Education Institution (HEI).
Preference will be given to the unemployed personnel who have acquired a permanent disablement due to occupational injuries/ diseases, not in Employment, Education and Training (NEETs) and the dependants of COID pensioners/dependants of COID beneficiaries with a permanent disablement who excel in their studies and/or demonstrate potential.
If you do not receive any response from the Compensation Fund within two months after the phase 2 closing date, consider your application (as likely) unsuccessful.
 
What the bursary covers:
Tuition fees, Prescribed Study Material, Monthly Stipend and Accommodation (Institution accredited).
The award is renewable every year – for the duration of the study programme enrolled for - depending on the availability of funds and academic performance of successful applicants.

Eligibility requirements: • Unemployed Persons who have acquired permanent disablement due to occupational injuries/diseases, dependants of COID pensioners/dependants of COID beneficiaries with a permanent disablement • South African citizens • Fully completed application form • Proof of residence • COID Pension number/Claim number • Certified copies of Identity document of the applicant, parent(s) or guardians' Identity document/death certificate (COID pensioner/COID beneficiaries with a permanent disablement not (yet) classified as COID Pensioners) • Grade 12 June results/highest school grade or qualification • Proof of acceptance/preliminary acceptance letter from public Post School Education and Training (PSET) • Students must be enrolled to study on a full-time basis, and only under exceptional circumstances students with disabilities shall be allowed to study part-time • Proof of income • Proof of unemployment letter from Department of Employment and Labour/or Affidavit • Certification and verification of physical disability by a Health Care Professional or Disability Support Office/WCL forms (Applicable to COID clients/ beneficiaries with a permanent disablement not (yet) classified as COID Pensioners) • Applicants may be subjected to a psychometric assessment.
How to apply for this bursary opportunity:
Download and complete the respective bursary application form
with a full list of the study fields to be funded
from the website
www.labour.gov.za
or visit your nearest Provincial Labour Centre for the application form. Unemployed Persons who have acquired permanent disablement due to occupational injuries/diseases are not restricted on the qualifications to enrol for. Ensure that you also acquire proof of acceptance or preliminary acceptance from a recognised public training institution/Vocational Training college. For further enquiries, assistance and advice, please contact Mr Ntsodi Mafa/Mr Luyolo Fani on
012 319 9264
or send an email to
cfexternalbursaries@labour.gov.za
, send WhatsApp to
082 937 2062
.
Targeted beneficiaries struggling to gain access to the training institutions due to the level of education and other barriers can contact our offices for advice / further assistance / organised Vocational Training.
Submit your application via:Post Office/ Courier:
The Sub – Directorate: Vocational Rehabilitation, Department of Employment and Labour, Compensation Fund, Private Bag x 955, Pretoria, 0001 Or hand deliver at 167 Thabo Sehume & Madiba Street, Delta Heights Building.
Email:
CFexternalbursaries@labour.gov.za
Please find application form here.
---
2022 OMET Applications
The Old Mutual Education Trust (OMET) was founded in April 2005 by Old Mutual as part of a BBBEE transaction with 10 unions with whom Old Mutual has a business relationship. The scholarship is open to all participating union members and their dependents. This allows for the pursuit of any tertiary qualification at one of South Africa's public higher education institutions. OMET also supports the personal, academic and professional success of their students by providing: computers, tutoring, access to counselling services and preparation for the world of work.
What does the scholarship offer?
Graduates' transition into OMET's Alumni programme where they continue as mentors and motivators to current students
They will get partial funding (R65 000 in 2020) 
Access to tutoring support 
Computers to 1st year entrants into the programme 
A holistic student support programme focused on academic success, psychological/ emotional well-being and preparation for the world of work 
A peer buddy support system by senior students for 1st year students 
A full mentorship programme for final year students delivered by OMET Alumni
The selection process is based on the academic ability of the applicant and in cases of a tie, the field of study, financial circumstances and gender are considered. OMET has a selection committee comprised of 4 senior people within the higher education sector - this committee audits and verifies the process. Final approval for the scholarships is granted by the OMET board at an official board meeting.
The following persons may apply for the OMET scholarship:
A child of a member or employee (inclusive of an adopted child or a stepchild)
A grandchild or other child blood relation of a member or employee which is financially supported solely by the member or employee and is not older than 25 years old
A spouse of a member or employee or
Living together with the member or employee in a relationship akin to a marriage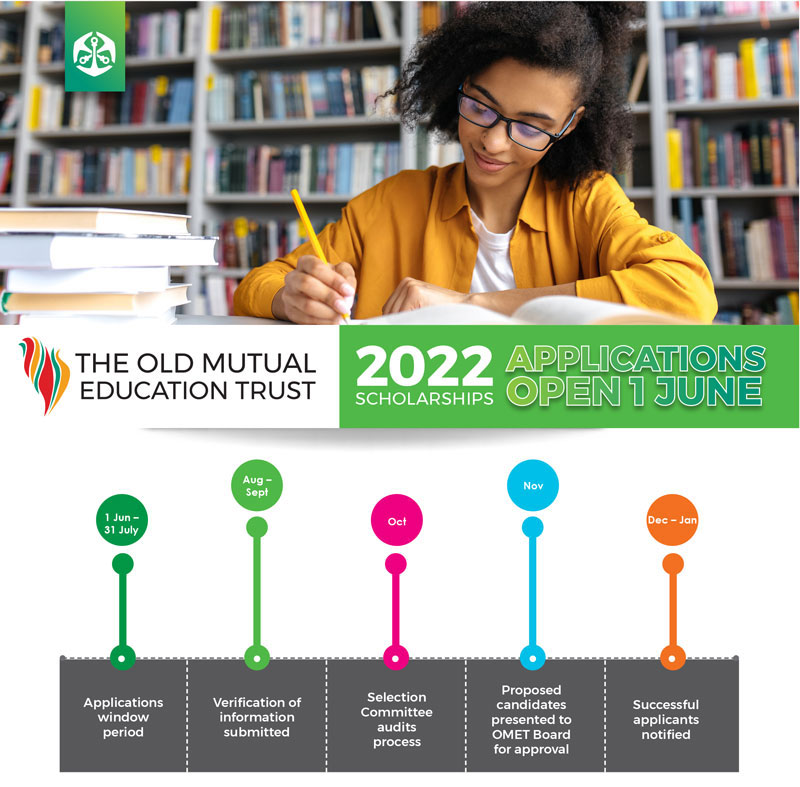 ---
2022 Anglo American
Apply now for our graduate programme
Closing date for applications is 27 August 2021
We are looking for graduates who will bring new ideas and fresh approaches to help us discover even safer, cleaner, and more responsible ways of working that focus on the wellbeing of our people at work and in our host communities.
Successful candidates will join a two-year graduate development programme at Anglo American's Kumba Iron Ore or Anglo American Platinum. The programme offers participants the chance to make a difference, working on real projects and the opportunity to work across open cut or underground mining. It is designed to recognise your individuality, springboard your career, harness your natural talent and help you develop lasting networks.
 
How to apply
If you would like to apply to become part of our graduate programme, please complete our online application form. You can access the application form for the graduate discipline of your choice by logging onto to https://www.angloamerican.com/careers/job-opportunities/apply and search for role by inserting the job reference number. You will be able to your CV and other relevant documentation.
 
More about Anglo American
At Anglo American, we are committed to making lasting positive change for our employees, host communities, consumers and our planet. We enable both high performance and purposeful action as we aim to re-imagine mining to improve people's lives. We deliver the metals and minerals that make modern life possible, contributing to the production of anything from mobile phones to medicines. Find out more at www.angloamerican.com.
What qualifies you to apply? You need to have…
ƒ Completed an undergraduate, honours or master's degree in disciplines relevant to the available roles within the past two years or be due to complete by January 2022.
ƒ No more than two years' relevant work experience.
ƒ Excellent academics.
ƒ Demonstrated that you are a team player with strong leadership potential.
ƒ Demonstrated drive, ambition and a passion for challenging work.
ƒ Actively participate in campus and community life.
Inclusion and diversity
We strive to create an inclusive environment for all employees. Candidates from different backgrounds are encouraged to apply for all vacant positions.
 
Job description
As a graduate within Anglo American, you will learn how to assist in delivering best practice support and have a proactive approach to safety, ensuring compliance with all safety systems and legislation. The role will have a strong focus on a specific discipline. You will facilitate effective communication between all relevant stakeholders and ensure that regular updates are completed in a timely manner. Graduate opportunities are rotational, which means, you will gain experience in a variety of areas.

We are committed to your safety
Nothing is more important to us than ensuring you return home safely after a day's work. To make that happen, we have the most rigorous safety standards in the industry and are continually investing in new technologies – from drones to data analytics – to help us make mining safer.
 
Background checks
Successful candidates will be required to complete background screening which will include validation of qualifications and medical checks.
Graduate disciplines
Job Title Link Job REF Number
---
BABETTE TAUTE HONOURS SCHOLARSHIPS for students of English 2022 academic year
The late Babette Taute left the major part of her estate to establish a bursary trust for students of English at South African universities.
Applicants must be South African citizens or have Permanent Resident status in South Africa.
A number of Honours scholarships of R75 000 each will be available for full time students in a one-year Honours programme. Students of any branch of English language and literature study, including applied language studies, are eligible for the scholarships.
Awards are made on merit, broadly interpreted. A fine academic record is a requirement for an award. However, the trustees are also interested in other indices of merit. These might include leadership in cultural or social areas, quality of writing and publications, and excellence as a teacher of English or a translator.
Babette Taute Scholarship holders may accept other awards, provided that the total value of awards held does not exceed R120 000. The Babette Taute Scholarship may be reduced in value to bring it in line with this requirement.
Application forms are obtainable from the Department of English, the financial aid office at this university, or from The Babette Taute Trust, C/O Ms Naaznien Parker at Naaznien.Parker@sanlam.co.za. Or Helene Scheider at Helene.Schneider@sanlam.co.za
The closing date for receipt of applications by the Trustees is 30 October 2021 Applicants will be informed of the outcome of the selection process early in December 2021.
Note that incomplete applications will not be considered. Make sure that references are submitted by the deadline. Please ask your referee to send you an email confirmation of submission. References must remain confidential from the applicant. All correspondence should carry the subject line: "Babette Taute 2022 Application/Query: (Surname of Author)"
Please click here for more information
---
"Initiative Southern Africa" (INISA) Student Grant 2021
The "Initiative Southern Africa" (INISA) offers a grant for students from Universities and other tertiary education institutions in countries of the SADC region (Angola, Botswana, the Democratic Republic of Congo, Lesotho, Madagascar, Malawi, Mauritius, Mozam-bique, Namibia, South Africa, Swaziland, Tanzania, Zambia and Zimbabwe) and invites applications.
 
Who we are
INISA is a German Non-Governmental Organisation founded in 1995. Our mission is to inform the German public on political, economical, social and cultural developments in Southern Africa to create interest, deepen understanding and enhance contacts and exchange between Germany and Southern Africa. We are entirely independent and non-partisan, funded through membership fees and donations. Our members are coun-try-experts, researchers, students and interested lay persons from both Germany and Africa who all share a common interest in Southern African affairs.
Our activities concentrate on Germany (organising lectures, seminars and talks on Southern African affairs, publishing research papers and provide expertise and assis-tance for Germans who want to spend time in the countries of Southern Africa). How-ever, we believe that tertiary education aiming at professional academic excellence and critical social engagement is vital for the development of African states and their socie-ties. Taking into account the numerous obstacles African students are facing in pursuing their studies, many of them related to a lack of finances, INISA offers a grant award for students from Southern Africa.
 
The INISA Student Grant 2021
The INISA grant covers 75% of tuition fees and related costs (e.g. books and other study material; residence fees etc.) for the academic year of 2021 up to a maximum amount of Euro 3000 (or the equivalent in local currency).
 
The applicant (m/f/d) should:
hold the nationality of one of the SADC countries;
study full time at a University or other tertiary education institution in one of the SADC countries;
be in the second or third year of his or her undergraduate studies, i.e. s/he has successfully completed at least one year of studies and has successfully re-registered for further courses in the next academic year. Please note: the INISA Student Grant is not applicable to postgraduate studies such as Honours, Masters or PhD programs.
The grant is open to students of all subjects, but particularly we encourage applica-tions by science, engineering, economics and medical students. Should the grant be awarded to more than one student the maximum amount will be split equally. INISA requires the student to provide proof of tuition related expenses with a fees account record, as the grant amount covers a percentage of these expenses and needs to be calculated on that basis before any payment is possible. The grant will be paid direct-ly into the student's fees account at the University. INISA requires the student to provide two reports on the progress of his/her studies in the year s/he is awarded the grant.
 
How to apply
To apply, please go to our website www.inisa.de. Look for the "INISA Student Grant 2021" button and fill in the electronic application form. Besides personal details you will be asked to provide the following information:
 A detailed CV (doc,docx or pdf; max. size 800 k)
A photo of you (gif or jpg; max. size 1 MB)
A letter of motivation (500-1500 words; doc,docx or pdf; max size 800 k). The letter of motivation will be the main criterion for the consideration of your application. The object of the letter is to present a comprehensive picture of your personality; we would like to get to know you as good as possible. It should at least cover these aspects: Why did you decide to study a particular subject and what does the subject mean to you? What would you like to achieve with your studies, what would you like to achieve in your life? What do you do in your spare time? Why do you think you should be awarded the INISA grant? In which way would the grant make a difference to your studies this year?
Names and contact details of 2 persons (no members of your family) who support the application and can provide further information on you.
Information on additional funding (grants, scholarships, tuition fee waivers etc.) from public or private sources.
Additional documentation (copies of diplomas, testimonials etc) is not required at that stage of the application.
The closing date for applications is Sunday, 19 September 2021.
After assessing the applications INISA will shortlist any number of candidates and conduct interviews with them. Applicants will be informed on the status of their ap-plication in due course.