​
External bursaries
Please take note of closing dates!
Upstream Training Trust Bursaries for Geosciences, Environmental Sciences, Engineering, IS and IT closing: 30 Sept 2023
Project Funding & Student Bursary
Project Funding
Project funding is intended for projects that enhance development of STEM activities, promote skills and training for advancement of such activities, as well as support for both community based and academic initiatives, with the aim of promoting opportunities within the upstream oil and gas sector.
UTT Student Bursaries:
The bursary is valued at R90 000 that will go towards students' needs such as tuition fees, accommodation costs, textbooks and food.
Selections will be done on the following criteria:

Learners currently in matric
University students currently pursuing studies in Geosciences, Environmental Sciences, Engineering, IS and IT

Pass rate required – meet the minimum requirement stipulated by the Institution
Preference given to:

learners from previously disadvantaged areas
female students

Passion and interest in upstream oil and gas industry
students with plans to go into the upstream oil and gas industry
Students wishing to, or already undertaking studies relevant to the petroleum, oil and gas industries such as:

Geoscience
Geophysics
Electrical Engineering
Chemical Engineering
Mining Engineering
Mechatronics
Computer Science
Industrial Engineering
Information Systems
Information Technology
Chemistry
Physical Science
Maths
Students meeting minimum requirements of the university and field of study they are applying for
We fund all tertiary institutions within South Africa
Public Investment Corporation SOC Ltd (PIC) Bursary
The Public Investment Corporation SOC Ltd (PIC) is passionate about contributing to the community in which it operates. Improving the lives of people across the board is at the heart of the PIC's value system. The PIC has a bursary programme that identifies previously disadvantaged learners from designated groups with academic potential who want to study. Candidates that show an innovative business potential that can prove they need financial support will be considered for these bursaries.
The bursary application for 2024 is now open.
Deadline to apply 30 September 2023
Enquiries: bursaryapplications@pic.gov.za
Please remember to include your contact details when making an enquiry as we may need to contact you to resolve your enquiry
NB: Incomplete applicants will not be considered
Feedback will only be sent to successful applicants.
Click here for more information.
The Oppenheimer Memorial Trust (OMT)
The Oppenheimer Memorial Trust (OMT) awards a limited number of scholarships annually for postdoctoral study at local and international Higher Education Institutions. South African citizens, permanent residents and foreign national may apply. Scholarships are given to candidates with a proven record of academic excellence who intend to pursue careers in academia, research, development or related fields in South Africa.
OMT Postdoctoral Guidelines 2023
OMT Masters and PhD Guidelines 2023
OMT Sabbatical Study Guidelines 2023
Monocle Foundation bursary opportunity
The Monocle Foundation is proud to announce that applications for our 2024 Bursary Programme are now open.
Established in 2014, the Monocle Foundation is a philanthropic educational trust aiming to offer tertiary-level scholarships for previously disadvantaged black females. The foundation has positively transformed the lives of numerous South African women and is continuously expanding its impact with aspirations to become a leading scholarship provider throughout the country.
We are dedicated to investing in women and enabling them to achieve their full potential by providing them with the tools they need to succeed. This includes improving access to education, promoting financial literacy, providing essential resources, and advocating for gender equality.
We have always had a strong focus on personal development, training, and education at Monocle – not just for our employees, but for society at large. The Monocle Foundation Bursary Programme is committed to supporting women of colour who have limited to no funding, and who are currently studying in a variety of graduate and postgraduate fields.
Eligible students are as follows:
Black females with limited to no funding
South African students who are in their second year of study, or higher
Click here for more information.
Dentsu bursary: 2024 for Media, Creative Arts, Communication, Marketing and Datascience
2023/4 dentsu SA Bursary Scheme
Applications close on the 30th September 2023
Click here for more information
Funza Lushaka Bursary Programme Information
The Funza Lushaka Bursary Programme is a multi-year programme to promote teaching as a profession. Bursaries are available to enable eligible students to complete a teaching qualification in an area of national priority. Recipients of these bursaries will be required to teach at a public school for the same number of years that they received the bursary.
Recipients of the bursary must apply on-line for the bursary every year. The recipient must also complete the placement information as required every year. The provincial education department (PED) will place a graduate bursar in a suitable teaching post. If a particular PED does not have a suitable teaching post for the graduate bursar, the applicant may be placed in a PED that does have a suitable post. Please note that bursars cannot choose the school in which they would like to be placed and placement cannot be deferred for any reason.
Harmony Gold Mining Limited Bursaries
Harmony Gold Mining Company Limited is looking to award bursaries to top-performing students in their 1st, 2nd, 3rd or 4th year of studies.
Interested Students in core mining disciplines such as Mining Engineering, Extractive Metallurgy, Geology, Survey, Rock Engineering, Electrical Engineering - Heavy Current ONLY, Mechanical Engineering are encouraged to apply
Non-core mining related fields of studies include Finance, Accounting, Human Resources and Social Sciences, Health Sciences and Information Technology.
Click here for more information.
Bursary Applications for the 2024 Academic Year for Unemployed Learners
The Mining Qualifications Authority (MQA) is a Sector Education and Training Authority (SETA) for the Mining and Minerals Sector in terms of the Skills Development Act No. 97 of 1998.
The MQA would like to invite learners who are presently in grade 12 or already studying at a public university, university of technology or a TVET college to apply for a MQA bursary for the 2024 academic year of study.
A total of 1000 bursary opportunities will be available for the 2024 academic year.
The bursary will cover tuition fees and allowances for accommodation, books, and meals. 
NB: The bursary is ONLY available to South African citizens. 
The MQA bursary scheme focuses on funding the following qualifications at universities, universities of technology, and TVET Colleges as indicated below.
However, the MQA may allocate 20% of the total bursary allocations for the 2024 academic year for qualifications which are not listed below, which the MQA may deem as qualifications necessary for the mining and minerals sector.
Qualifications funded at universities and universities of technology:
Metallurgical Engineering
Jewellery Design and Manufacturing
Geology
Mining Engineering
Mechanical Engineering
Mine Survey
Electrical Engineering
Chemical Engineering
Environmental Health and Management
Analytical Chemistry
Electro-Mechanical Engineering
Industrial Engineering
Occupational Health and Safety
Occupational Hygiene
Occupational Medicine
Operations Management
Quality Management
Qualifications funded at TVET colleges:
Boilemaker
Motor Mechanic (Diesel)
Electrician
Fitting (including Machinery)
Instrumentation Mechanic
Millwright
Fitter and Turner
Rigger Ropes Man
Preference will be given to the following aspects in the selection of candidates:
Historically Disadvantage Individuals (HDI) applicants.
Financially needy applicants with a combined household income of not more than R600 000 per annum. The household income will be verified by MQA, and misrepresentation of the household income will disqualify the application.
Female applicants.
Applicants living in rural communities.
Applicants who have applied to study at their local tertiary institutions.
Candidates with a strong academic record.
Application Window
The application period will open from 01 September 2023 and close on 01 October 2023.
Late applications will not be considered.
To qualify for the bursary, the applicant must be unemployed at the time of the application and must remain unemployed for the duration of his/her studies.
Download the Application Form for Unemployed Learners
The completed application form and supporting documents must be submitted to bursaries@mqa.org.za
Only applications received at the above e-mail address will be considered.
Please note that communication will be limited to successful applicants only. If you have not received any communication from the MQA by 30 November 2023, then please consider your application as being unsuccessful.
Further information regarding the bursary application process can also be obtained from the following MQA Regional Offices:
Gauteng:
7 Anerley Road, Parktown. Tel: 011 547 2600
Eastern Cape:
King Sabatha Dalindyebo TVET College, R61 Queenstown Road, Cicira Village, Mthatha. Tel: 047 505 1063
Free State:
Goldfields TVET College, 14107 Ndaki Road, Tosa Campus, Thabong, Tel: 087 095 0266
Mpumalanga:
Nkangala TVET College, Mpondozamkomo Campus, 1 Moses Kotane Drive, Ferrobank. Tel: 013 696 8120 / 2121
Limpopo:
Sekhukhune TVET College, CN Phathudi Campus, Stand No. 2659, Praktiseer. Tel: 087 095 0267
North West:
Old Shopping Complex , 53 Karee Street, Mooinooi. Tel: 014 555 8860
Northern Cape:
Northern Cape Rural TVET College, Kathu Campus, Hans Coetzee Drive, Kathu. Tel: 053 723 0100
To apply email your details to bursaries@mqa.org.za
Vodacom Bursary
This is an academic Merit Bursary open to fulltime first-year, second-year or third-year students intending to study or are studying towards Science, Technology, Engineering & Mathematics fields but may lack necessary resources to study further.
Key Offerings:
Full university accommodation
Capped amount – private accommodation
 Full registration and Tuition
Text book allocation
Meal allowance
Additional Benefits:
Laptop
Cellphone
Orientation workshop for all new students who are accepted on the programme
Workplace exposure through our structured Vacation Work programme
Work Readiness skills training to prepare the final year bursars into the world of work
Full access to our Wellness Programme (ICAS) services
Programme Requirements
must be a South African citizen by birth
must undertake full-time undergraduate studies in a South African tertiary institution
must pass Grade 12 with exemption, obtaining 70% or higher across all subjects
must have obtain a minimum of 65% average or higher if in first year of tertiary and above
may apply if already in first year (upwards) if studying at an accredited South African tertiary institution and meet all criteria above
Applying for the Bursary Programme position
Step 1
Before you can apply for a position, please ensure that you meet all of the above criteria.
Step 2
Once you've registered and applied, we'll email you confirmation of receipt. Our Bursary Management team will then carefully assess your application and provide you with feedback every step of the way!
Applications close on 15 September 2023.
Click here for more information
HCI Foundation Bursary Application: 01 August -30 September 2023
The HCI bursary applications open on the 1st August – 30th September 2023. The bursaries are for Postgraduate Diploma and Honours students and a limited number of refugee students.
Application link: https://hcifoundation.devman.co.za/devman/web/bursary/ 
Build a future with Kumba Iron Ore (Anglo American)
2024 BURSARY OPPORTUNITY 
Closing date: 15 September 2023
BURSARIES FOR 2024 ARE AVAILABLE IN THE FOLLOWING FIELDS OF STUDY FROM
1st, 2nd & 3rd YEAR OF STUDY
Chemical Engineering
Civil Engineering
Corporate Affairs
Data Analytics
Electrical Engineering
Environmental
Finance
Geology
Geo-Tech
Human Resources Management
Industrial Engineering
Mechanical Engineering
Metallurgical Engineering
Mine Surveying
Mining Engineering
Occupational Hygiene
Occupational Medicine
Projects (SIB)
Safety Management
Click here for more information
FirstRand Foundation Honours Bursary (2024)
Tomorrow Trust has been appointed by FirstRand Foundation Trust ( FNB, RMB, WesBank) to administer postgraduate bursaries in specific disciplines. 
The FirstRand Foundation was established in 1998 as the legal vehicle through which FirstRand Limited and its major franchises (FNB, RMB and WesBank) direct their individual and collective corporate social investment. From inception, the FirstRand Foundation received 1% of FirstRand Limited's net profit after tax (NPAT). 
This bursary is for candidates who will start their 1-year honours degree in 2024. View more details here.
Eligibility info is accessible here.
Open till 31 October 2023
Potatoes SA bursary application 2024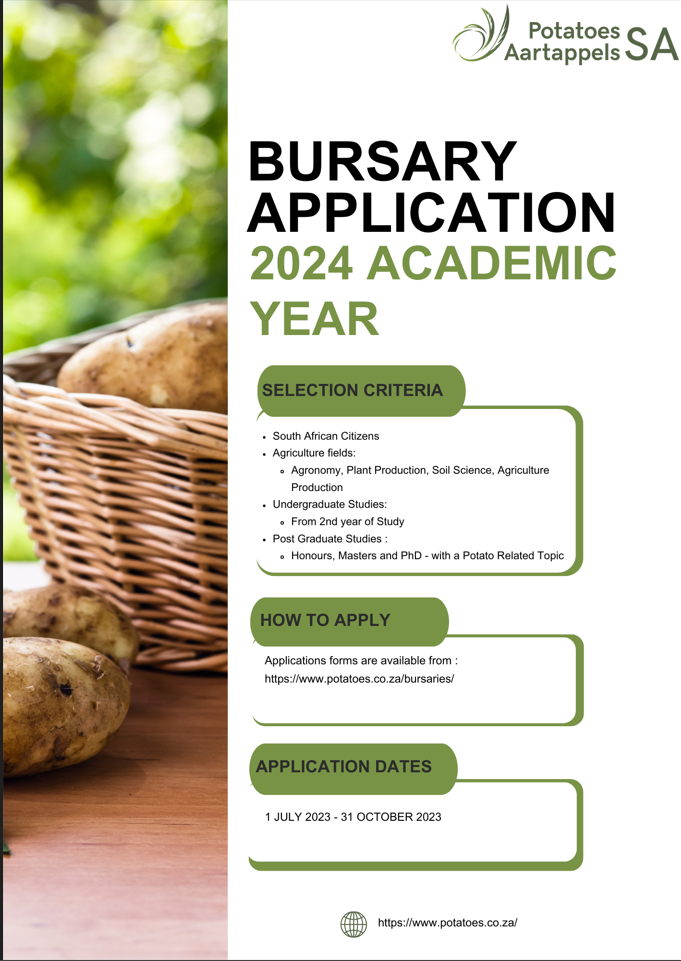 AGRICULTURE, LAND REFORM AND RURAL DEVELOPMENT BURSARY AWARDS FOR 2024
The Department of Agriculture, Land Reform and Rural Development (DALRRD) intends to award comprehensive bursaries to qualifying applicants pursuing and/or intending to further their studies in identified careers in the agriculture, land reform and rural development sector for the 2024 academic year. The bursary will cover tuition, accommodation, books, meals and monthly allowance. The bursary awards target the previously disadvantaged and impoverished persons from poverty-stricken and rural communities.
Closing date for all applications: 31 October 2023
Read here for more information.
Nedbank bursary  programme
Supporting academically deserving students with proven financial need to take their first steps toward achieving their dreams and obtain their first undergraduate degree.
At Nedbank we believe in using our financial expertise to do good by helping bright young leaders to pursue their academic dreams.
The Nedbank External Bursary Programme (bursary) aims to fund academically deserving students who do not have the financial means to study fulltime towards a first undergraduate degree or diploma at a South African public university or university of technology. The aim of the bursary programme is to address South Africa's scarce-skills shortages, with a specific focus on green-economy skills.
In short, green economy promotes sustaining and advancing economic, environmental and social well-being. Green-economy skills refer to those areas of study that focus on improving human well-being and social equity, while also significantly reducing environmental risks and ecological scarcities. Green-economy skills include the reducing of carbon emissions and pollution, increasing energy and materials efficiency and enhancing our natural capital.
Read here for more information.
Sasol Bursary Opportunity 2024
Strictly undergrad:
Chemical Engineering
Chemistry (Hons. is a requirement for Sasol)
Civil Engineering
Data Science – Computer Science
Data Science – Mathematics
Data Science – Operations Research
Data Science – Statistics
Electrical Engineering
Electronic Engineering
Geology (Hons. is a requirement for Sasol)
Industrial Engineering
Mechanical Engineering
Metallurgy (Hons. is a requirement for Sasol)
Mining Engineering
For more information click here.
2024 Call for applications: DSI-CSIR Inter-programme Bursary Scheme
The Department of Science and Innovation (DSI) established the Inter-programme Bursary Scheme (IBS) for postgraduate studies to support capacity development in key strategic and priority areas identified in key departmental strategies. The Council for Scientific and Industrial Research (CSIR) is supporting the DSI in the development of skills in these areas.
Click here for more information.
IDC Bursary Opportunity (2024 intake)
The Industrial Development Corporation is inviting students to apply for the IDC External Bursary Program, for the 2024 academic year from the 1st of July 2023 and the closing date for applications is the 31st of September 2023.
The IDC Bursary is open to unemployed eligible South African citizens with financial needs. Applicants should be studying or intend to study full-time toward Science, Technology, Engineering, and Mathematics (STEM qualifications), including Accounting/Financial Studies and Law.
Click here for more information.
Schauenburg Education Trust 2024 bursary opportunity for BCom and BSc students on Vanderbijlpark Campus
The Schauenburg Education Trust awards bursaries to students who are in the process of obtaining scarce skills qualifications, thus ensuring that more of these skilled professionals are developed and produced for future employment in South Africa.
For the foreseeable future, the Schauenburg Education Trust will focus on providing bursaries to students in their second, third and fourth years of study in the fields of Electrical and Electronic Engineering, as well as Business Management and Business Administration, at specified Universities.
How do I qualify for a bursary in 2024 and what must I be studying?
Bursaries for the 2024 Academic Year are intended to cover second, third and fourth year students studying Electrical Engineering (BEng or BSc), Business Management and Business Administration (BCom) Degrees.
For purposes of the 2024 intake, only students from the following Universities in Gauteng Province may apply:
University of Pretoria
University of Johannesburg
North-West University (Vanderbijlpark)
University of the Witwatersrand
The students ought to be:
Black Persons as per B-BBEE Legislation, with preference given to Black women, Black students under 35 years of age, and Black students with disabilities;
South African citizens with valid ID Numbers;
Willing to attend interviews and undergo psychometric testing; and
Willing to spend University holidays doing vacation work or job shadowing at Schauenburg Systems (Pty) Ltd.
Click here for more information.
Amazon Recruitment Bursary
Do you want to solve business challenges through innovative technology? Enjoy working on cutting-edge, scalable services technology?
We invite current Undergraduate students to apply, who have a keen interest in Amazon, software development engineering and based on the eligibility criteria below:
Degree programmes - Computer Science, Computer Engineering, Software Engineering, Information Technology.

Study level - Must be entering into final year of Undergraduate (3rd year of a three-year degree OR 4th year of a four-year degree) in 2024 and must continue studying towards an Honours degree in 2025.

University - Studying at South African universities only.

Internship - Successful applicants will complete a formal Amazon internship (in the 2024 summer vacation) during which they will be assessed for a full-time Software Development Engineer role upon completion of studies.
Closing date: 10 September 2023
Thungela Bursary
We're looking for top-students who are crushing their studies for bursary opportunities.
Click here for more information.
Department of Health North West Bursary Scheme
The Department of Health North West has embarked on developing youth in the Province through bursary scheme for students studying Clinical Psychology.
Click here for more information and the application form.
Career Wise Bursary Services - 2023
Career Wise invites students at public HET institutions who are currently 1st, 2nd , 3 rd, and 4th year to apply on our online platform for bursary opportunities for 2023 academic year.
Click here for more information.
TIH Bursary Programme
Your TIH journey starts here!
Standard Bank Student Loan Offers
Set your dreams in motion with a Standard Bank Student Loan Without Surety
Standard Bank is offering students an opportunity to get a Student Loan Without Surety – meaning you do not require a guardian or parent to be able to take up this loan. We understand that it may be stressful looking for funding, and that is why you need a bank that backs you.
Minimum Criteria
You must be a South African citizen.
Your Gross Household Income must be less than R600 000 per annum.
3rd Year students and upwards within Science, Technology, Engineering, Mathematic, Commerce, Health Sciences and 5th Year students in Medicine.
Open to existing Standard Bank Transactional Account holders. You may apply for one using our digital and other banking channels if you don't have one
Study at one of our participating universities
How does it work?
The loan maximum is R120 000 per annum, which can be used to cover tuition, accommodation, books and study equipment.
There is no expectation of repayment on the loan while you are studying. However, you will be expected to start repaying the loan six months after completing your studies or as soon as you secure employment. Of course, it will be to your advantage to reduce your balance by making some payments while studying.
Monthly interest and service fees will be charged from the loan's inception and will be added to the outstanding balance.
This loan can cover your existing university student debt up to R80 000 for each previous year that may be preventing you from completing your studies
Competitive interest rates apply.